Christmas Day Lunch Menu 2015 At El Paraíso Restaurante & Country Club.
Start Date: 25/12/2015
Time: 13:00 - 00:00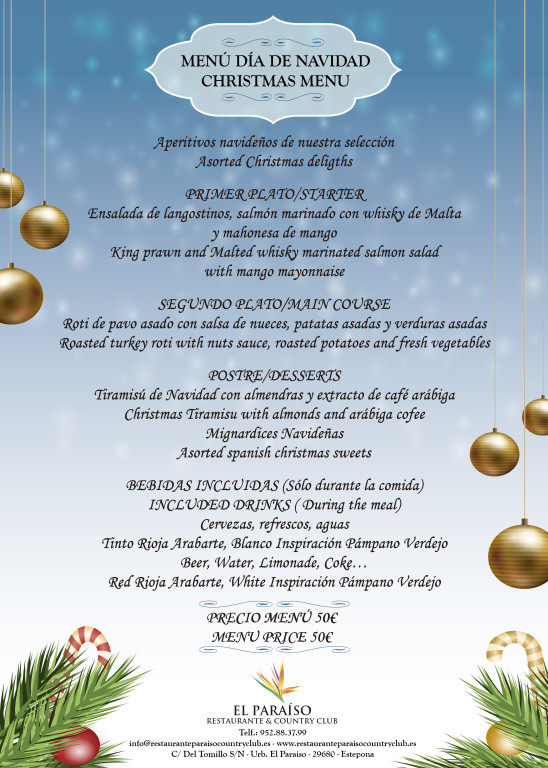 Estepona Wednesday December 25, 2013
Christmas Day Lunch Menu 2013 At El Paraíso Restaurante
GOOGLE TRANSLATION
El Paraíso Restaurante is the perfect choice an ideal environment Traditional Christmas Day Lunch , a place full of desires , joy and above all , excited about becoming a big family so you can enjoy this wonderful day together . For this celebration , El Paraíso Restaurante wants them enjoy one of the most memorable days of the year , enjoy it in the best way possible, with their families and loved ones. Our Chef, JuanMa Manrique ​​selected one of the Special Menus for Christmas Day most careful in not missing an exquisite modern cuisine , while a Christmas Traditional Food . In short, a menu designed to delight your senses , served in the best of environments to suit your needs and tastes , and that combined with an incomparable , your appointment will only family , where you can savor the authentic Christmas and spend a few unforgettable moments on this special day.
Enjoy our Christmas Day Menu at the heart of the Costa del Sol, in a place located between Marbella , San Pedro Alcantara and Estepona .
Thank you for celebrating this holiday with us so special.
OUR SPECIAL 
CHRISTMAS DAY LUNCH MENU 2013
info@restauranteparaisocountryclub.es
EL PARAISO RESTAURANTE & COUNTRY CLUB
Tlf.: +34 952.883.799 
RESTAURANTE IN ESTEPONA – MARBELLA – SAN PEDRO ALCANTARA
Estepona · Málaga · Costa del Sol · Andalucia · España